Upcoming Events
| Sun | Mon | Tue | Wed | Thu | Fri | Sat |
| --- | --- | --- | --- | --- | --- | --- |
| 29 | 30 | 31 | 1 | 2 | 3 | 4 |
| 5 | 6 | 7 | 8 | 9 | 10 | 11 |
| 12 | 13 | 14 | 15 | 16 | 17 | 18 |
| 19 | 20 | 21 | 22 | 23 | 24 | 25 |
| 26 | 27 | 28 | 29 | 30 | 1 | 2 |
December 2023
Christmas at Stokelan
4:00 PM to 9:00 PM
Fri, Dec 8, 2023 - Sun, Dec 10, 2023

Christmas at Stokelan - A Festival of Lights
December 8th 4-9pm, December 9th 2-9pm, December 10th 2-8pm
Cost: $5/person - Kids under 5 Free
(Admission Donation to local Charities)
Tickets at the door
General Admission - No Reserved Seating
Weekend Attractions:
Santa Visits, Christmas Village with Artisian Vendors & Our Winter Wonderland Tent with 25 Themed Trees, Kids Crafts, Wine Gifts, Special Food Menu & of course Wine!
Plus:
Friday: Live Music (Nicolena Cronin 5-8pm), Magician
Saturday: DJ - Visit from the Grinch!
Sunday: DJ + Ginger Cookie Decorating for Kids
We will be offering a special event menu, wines by the glass & bottle (no flights)
Closed for Christmas
Mon, Dec 25, 2023
Venue:
Stokelan Winery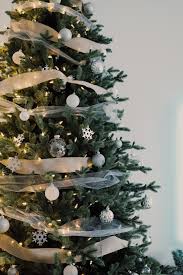 CLOSED Today for the Christmas Holiday!
Happy Holidays from the whole Stokelan Family
New Years Eve Eve Dance Party
6:00 PM to 9:00 PM
Sat, Dec 30, 2023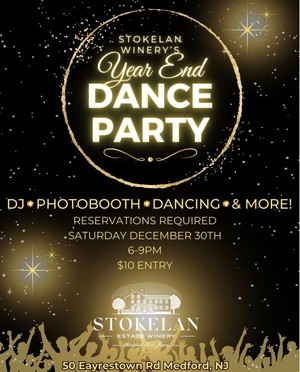 December 30th 6-9pm * $10/person
Come Celebrate New Years Eve Eve with us at Stokelan!
We will have DJ Shelly provided the best dance music along with great wine & food.
Why celebrate just one day when you can party like its almost the last day of 2023!
Contact
STOKELAN ESTATE WINERY
50-52 Eayrestown Road
Medford, NJ, 08055
EMAIL
info@stokelanwinery.com